So the other day I wanted to go to a happy hour after work. I went to my normal place Summer House at Santa Monica but they were having a private event so they shut everything down. The nerve of them, smh lol. So no happy hour there for me 😦
Nevertheless, this gave me an opportunity to try something new and different. Across the street was City Perch Kitchen & Bar. Normally, I'd look up a places menu and decide if I wanted to try it out but it was cold outside and I didn't have that type of time, lol. So I just went for it.
I must say I was pleasantly surprised and pleased by this place. The atmosphere was calming, the decor gave a very rustic & modern feel, and the vibe was good, very chill. City Perch Kitchen & Bar is also connected to the iPic Theater so its like a 2 for 1 place. Food and movies, who wouldn't like that. Although, I did not have a chance to go see a movie, I will definitely be going back to try out the theater.
So as I mentioned, I was trying out City Perch for their happy hour and happy hour is what I got. When I took my seat at the bar, I was immediately greeted by one of the bartenders working at the time. I love nothing more than to be acknowledged when I am dining somewhere especially at the bar. It grinds my gears when bartenders continuously walk past a customer without even saying "I'll be right with you". Just me?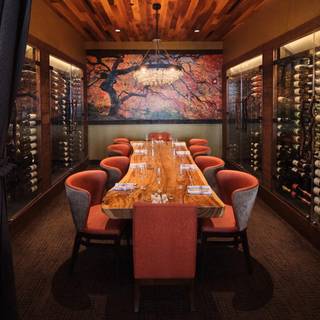 Nevertheless, I did not have this issue here. Very pleased 🙂 . Once I got settled I took a look at the menu. I must say the variety of the menu was great. It had something for everyone, from wings to shrimp cocktails and other choices in between. Being who I am and looking at this menu I did not know what I wanted. I am a very, Very, VERY indecisive person. The menu could've only had 3 items and I still wouldn't know what I would want. *aye, don't judge me ok*
Any who, I decided on a drink to start me off. I ordered the AppleJack Margarita (about $7 on the HH menu).  I am a margarita girl so I was anxious to try this. It was made with Camarena Bourbon barrel-aged tequila, Laird's applejack, farmer's market cider 'n apples. Sounds refreshing, right? Well it was. The flavors were very fresh and blended together very nicely.
I also ordered a quick bite from the bar. I ended up choosing to try the Loaded Baked Potato Croquettes. I didn't know what to expect but I ordered it anyway. It was described to me as a "stuffed tater tot". Sounds good right? When my food arrived  it definitely didn't look like a tater tot….
It reminded me more of a hush puppy. It comes with as you see 7 croquettes, a side of aioli and sour cream (by choice). When I say these were good, they were GOOD! I'm not a fan of aioli because it is a mayonnaise based sauce. Although that is the case I did decide to try it out and I must say it was pretty good. I also ordered the Smoky BBQ pizza. In short it was just a BBQ chicken pizza which I devoured in the car on the way home! IT WAS SOOOO GOOD! (I ate it too fast to take a picture, lol)
All-in-all, City Perch Kitchen & Bar was a good experience.
The bartenders, the drinks, and the food. If you are ever in the area, be sure to check them out. Thet are located in the Pike & Rose plaza.
You can find them here:
Website: http://www.cityperch.com
Facebook.com: https://www.facebook.com/CityPerch

Instgram: @thejonesdiary
Facebook: http://www.facebook.com/jonesdiary